Currencies
EXMO integrates trendy cryptos Monero and Tether
EXMO, the cryptocurrency market has recently extended its number of trade instruments. In particular, it is now possible to experience two new cryptocurrencies – Monero (XMR) and Tether (USDT): XMR/BTC, XMR/USD, XMR/EUR, BTC/USDT, USDT/RUB.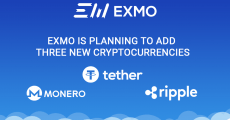 EXMO integrates Zcash cryptocurrency
Because of the growing attention towards Zcash (ZEC) cryptocurrency, EXMO exchange reports about launching of trades in four currency pairs at a time: ZEC/BTC, ZEC/USD, ZEC/EUR, ZEC/RUB.