Tag: MainCoin (MNC)
EXMO to delist Maincoin (MNC)
On 17th June 2022, we will delist Maincoin (MNC). Coin deposits and trading will be terminated on 18th May while withdrawal will be available only until 17th June 2022.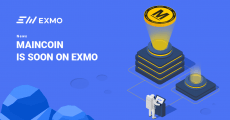 MainCoin (MNC) is Soon on EXMO
EXMO Cryptocurrency Platform is excited to share news about the addition of MainCoin (MNC) to its listing. The listing is scheduled for 2019.