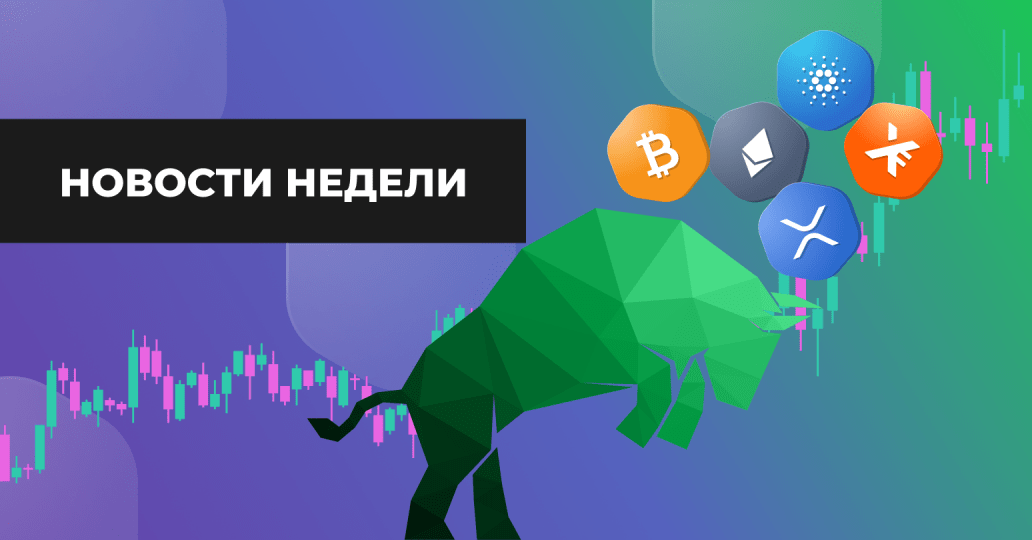 Crypto market in numbers
Crypto market capitalisation has grown by 10% over the past week to $2.24 trillion, according to CoinMarketCap, as of 2nd September 2021. During the same period, daily trading volumes increased by 22%.
In August, the crypto market increased by 26%. Daily trading volumes are up 64%, according to CoinMarketCap.
The market remains positive. The Fear and Greed Index remained in the "Greed" zone all week with the current value at 74 points.
Today, bitcoin once again managed to break the $50,000 mark. The first cryptocurrency closed August with a growth of 14%. From the all time high, the current BTC price is 23% lower.
Bitcoin capitalisation is close to a trillion dollars and currently stands at about $940 billion. Therefore, BTC is second only to the six largest public companies in the world in size, according to AssetDash.
Market growth over the week was a result of not only bitcoin, but also because of altcoins. At the same time, the level of dominance of BTC over the past 7 days has decreased by 2% and now is at 42%. The share of ETH during the same period increased by 1.7% to 19.7%.
On 2nd September, the Ethereum rate returned to its previous high level for the first time since 15th May, and is gradually approaching $4,000. The capitalisation of the second cryptocurrency is almost half (47%) of the Bitcoin market cap. According to the AssetDash leaderboard for assets, Ethereum moved up four positions during the week, overtaking Walmart and Samsung, and reaching 17th place.
All Time High
| | | |
| --- | --- | --- |
| Coin | Date | ATH on EXMO, $ |
| ADA | 02.09.2021 | 3.11 |
| CRON | 30.08.2021 | 2.60 |
Gainers of the week (27th August – 2nd September 2021)
Coin
Opening
price
27.08, $
Opening
price
02.09, $
Change
VLX
0.06
0.10
77.1%
TONCOIN
0.50
0.88
76.7%
ATOM
18.06
25.49
41.1%
DOT
24.22
33.65
39.0%
HB
0.0028
0.0039
38.2%
Losers of the week (27th August – 2nd September 2021)
Coin
Opening
price
27.08, $
Opening
price
02.09, $
Change
HP
0.0019
0.0015
-22.2%
ROOBEE
0.0052
0.0049
-5.8%
Easily track gainers and losers within the Simple trade section on EXMO. Check real-time updates in the last 24 hours, week and month.
Segmentation of cryptocurrencies based on trading results (27th August – 2nd September 2021)
Most traded coins (26th August – 1st September 2021)
| | |
| --- | --- |
| Coin | Trading volumes, $ |
| BTC | 33,213,302 |
| ETH | 25,332,413 |
| XRP | 10,229,148 |
| DASH | 1,938,820 |
| CRON | 1,482,059 |
| LTC | 1,327,321 |
| ROOBEE | 1,269,602 |
| TONCOIN | 1,166,921 |
| DOGE | 1,163,257 |
Top crypto market driving factors
Bitcoin (BTC) and the overall crypto market
▲ 26.08.2021 – The government of Cuba announced that it will recognise and regulate cryptocurrencies for payments.
▲ 26.08.2021 – Bitman, a leading ASIC manufacturer, said the world's largest chipmaker, TSMC, will raise wafer prices by as much as 20%. It also reported that its latest Antminer S19j Pro models are sold out until the third quarter of 2022.
▼ 27.08.2021 – An official at the People's Bank of China stressed that the Central Bank would maintain a "high-pressure situation" and continue to crack down on digital currency-related transactions.
▲ 27.08.2021 – Federal Reserve Chairman, Jerome Powell, has indicated that the Central Bank plans to begin reversing its easy-money policies this year, but not earlier than October. Meanwhile, he also noted that the Fed will not raise its key interest rate until the economy recovers by improved employment rates and inflation tops 2%.
▲ 30.08.2021 – CryptoQuant: the accumulated stablecoins on centralised exchanges have exceeded 19 billion.
▲ 30.08.2021 – Glassnode: bitcoin price is currently sitting at the top end of a strong on-chain support zone with nearly 1.65 million BTC having an on-chain base value ranging from $45,000 to $50,000.
▲ 30.08.2021 – Glassnode: long-term bitcoin holders have significantly increased their positions in August.
▼ 30.08.2021 – CoinShares: bitcoin saw outflows of $3.8 million over the past week and $60.9 million for the entire month. Overall, the cryptocurrency sector suffered outflows of $1.8 million despite altcoin inflows.
▲▼ 31.08.2021 – Santiment: investors have shifted their focus from bitcoin to other cryptocurrencies. Bitcoin social media mentions have slumped by 32%.
▲ 01.09.2021 – Twitter is now beta testing a Bitcoin Lightning Network tipping service.
Ethereum (ETH)
▲ 26.08.2021 – The Block: Ethereum's hash rate has broken above 600 TH/s for the first time after a significant dip in July.
▲ 26.08.2021 – Early Uber investor and venture capitalist, Bill Gurley, announced the addition of ethereum to his personal portfolio.
▲▼ 27.08.2021 – Ethereum's blockchain has split in two due to a bug in a previous version of the chain's main node software, known as Geth.
▲ 26.08.2021 – Santiment: ethereum is less of a risk to hold now compared to cardano or other assets.
▲ 30.08.2021 – CoinShares: last week ethereum saw the largest inflows of any digital asset, totalling $17.2 million.
▲ 31.08.2021 – Offchain Labs, the leading provider of scaling solutions for Ethereum, announced the official and full-fledged launch of the new Arbitrum One mainnet. The project has raised $120 million in funding.
▲▼ 01.09.2021 – According to Ultrasound.Money, over 11,500 ETH has been taken out of circulation within 24 hours amid a sharp fee increase.
Cardano (ADA)
▲ 26.08.2021 – Cardano will deploy the ERC-20 Ethereum converter on the testnet, next week.
▲ 30.08.2021 – CoinShares: cardano saw inflows of $10.1 million during the week, its largest on record.
Dogecoin (DOGE)
▼ 27.08.2021 – Turkish authorities are investigating a Dogecoin mining scam. The organisers have allegedly stolen 350 million Dogecoins (over $119 million) from 1,500 investors.
▲ 30.08.2021 – Elon Musk tweeted his approval of the developers' plan to reduce Dogecoin transaction fees.
▲ 01.09.2021 – The tennis star, Naomi Osaka, is exploring the possibilities of investing in crypto, and it is dogecoin that has caught her attention.
XRP (XRP)
▲ 31.08.2021 – Court orders SEC to provide internal documents requested by Ripple for consideration in closed session.
Polkadot (DOT)
▲ 29.08.2021 – Polkadot has announced that the next five parachain auctions on the network will begin on 1st September and end on 29th September 2021.
Tron (TRX)
▲ 26.08.2021 – Tron Foundation partners with the e-commerce platform, Shopping.io, to allow users to make purchases with TRX.
PARSIQ (PRQ)
▲ 27.08.2021 – PARSIQ developers launched an innovative subscription model as decentralised SaaS powered by IQ protocol.
Crypto market trends
Regulation
📊 The U.S. Congress has introduced two bills that will push the Commodity Futures Trading Commission (CFTC) to clarify the regulation of cryptocurrencies and prevent price manipulation.
📊 The Biden administration is reportedly pushing Democrats to include more rules for tax compliance on crypto transactions, namely to oblige crypto businesses to report information on foreign account holders. The U.S. Treasury plans to share this information with regulators in other countries.
📊 The State Duma of the Russian Federation may consider a draft law on cryptocurrency taxation in the autumn session.
📊 European Central Bank (ECB) Vice President, Luis De Guindos, stated that he wants crypto to be regulated in the same way as other assets and called for the launch of a digital euro.
📊 The People's Bank of China has issued a reminded that Bitcoin and other digital currencies "are not legal tender and have no actual value" and that digital currency-related transactions are pure investment hype.
Acceptance of cryptocurrencies
📊 The Central Bank of Cuba has issued a regulation laying down rules for the use of digital assets in commercial transactions and the licensing of virtual asset service providers.
📊 The parliament of El Salvador approved a $150 million bitcoin fund to provide exchange operations.
📊 Hundreds of demonstrators protested against Bitcoin legalisation in San Salvador, El Salvador's capital. They argue that the acceptance of the first cryptocurrency could lead to an increase in corruption.
📊 The National Civil Police of El Salvador arrested one of the main figures opposed to Bitcoin legalisation. So far, no formal charges have been brought against him.
📊 The International Monetary Fund shared its concerns about bitcoin and other cryptocurrencies becoming national payment systems. According to the organisation, "in most cases, the risks and costs outweigh the potential benefits."
📊 Twitter CEO, Jack Dorsey, talked about working on an open TBD platform to create a decentralised bitcoin exchange (DEX) based on his payment company, Square.
📊 Twitter is testing the ability to send donations to content creators in bitcoin. This feature was discovered in the code and is currently unavailable to users.
📊 The TikTok service began censoring videos in which bloggers teach crypto investing. Such videos get labeled as unwanted or simply removed without explanation. Some influencers say their accounts are being temporarily blocked.
📊 Microsoft has patented a method for implementing a cross-platform token management system. Their application will allow developers to create smart contracts not tied to a specific blockchain.
📊 American media company, Fox Corporation, became the leading investor in the Eluvio blockchain platform. The platform's first project on the platform will be the upcoming animated series "Crapopolis" by Dan Harmon, the creator of "Rick and Morty". The firm will launch a marketplace for issuing and selling digital goods for the animated series, including NFTs with unique characters, backgrounds and gifs.
📊 American television company, HBO, plans on shooting a series about cryptocurrencies, as well as issuing and selling Ethereum-based cryptocurrencies. Token holders will be able to receive a profits' share from the series release.
CBDC and stablecoins
📊 China aims to build an international clearing and settlement network for mobile payments using the digital yuan (DCEP).
📊 China's Bank of Communications and China Construction Bank have started exploring the possibility of using e-yuan for buying insurance products and investment funds online.
📊 The Monetary Authority of Singapore (MAS) has shortlisted 15 companies to participate in the Global CBDC Challenge. Among them are Citibank, HSBC, Standard Chartered, Consensys, IBM and other well-known companies.
📊 The central banks of Australia, Malaysia, Singapore and South Africa will create prototype CBDC cross-border digital currency settlement platforms as part of a new Bank for International Settlements (BIS) project. Singapore's BIS Innovation Hub will spearhead the project.
📊 The Ontario Securities Commission has barred trading platforms that offer crypto services from trading Tether. The reasons are not disclosed.
📊 The parent company of bitcoin exchange, Bitfinex and stablecoin issuer Tether, iFinex, asked New York Supreme Court to ban the media and other organisations from requesting data on the status and structure of USDT reserves. Over the past several years, iFinex stated that disclosing this data will harm its business.
📊 Center, the consortium created by Circle and Coinbase around the USD coin (USDC), has assembled a team of new leaders to facilitate its overseas expansion. Center is already discussing the launch of two different stablecoins in the European region.
Big business
📊 According to Buy Bitcoin Worldwide, 816,379 BTC belong to 14 Bitcoin ETF issuers and asset managers. This is approximately 4% of the current issue of BTC. At the same time, 3% of the emission falls on the Grayscale Bitcoin Trust (GBTC).
Another 1% of bitcoins belong to 34 public companies, half of which are owned by the American company, MicroStrategy.
📊 According to a new filing with the SEC U.S., the Miller Opportunity Trust, which is owned by billionaire fund manager, Bill Miller, has 1.5 million shares of GBTC valued at $44.7 million as of 30th June 2021. This represents about 1.55% of the fund's net assets.
📊 U.S. Global Investors, a Texas-based company managing $4.6 billion in assets, has disclosed its share in GBTC. As of 30th June 2021, the firm held $566,389 in GBTC through three funds. The total share of GBTC in the funds is 0.19%.
📊 Seek Capital, which manages the $1.2 billion personal fortune of UK billionaire, Simon Nixon, intends to invest in digital assets.
Mining
📊 Bitcoin miners' revenue reached $1.4 billion in August, which is 45% higher than in July.
📊 Ethereum miners increased their monthly revenues by 60% to $1.65 billion thanks to the rise in the price of ETH and the popularity of NFT.
📊 According to Etherscan, Ethereum hashrate updated its all-time high at the mark 646.7 TH/s on 26th August 2021.
📊 Analysts at 3DCenter conclude that the prices for video cards are rising again after a short-term drop. The measures taken to combat mining on video cards did not have a lasting effect.
📊 Singapore Myanmar Investco (SMI), a Singapore-based investment and management company, has announced that it will be mining cryptocurrencies in the fourth quarter of 2021.
📊 Genesis Digital Assets signed an agreement to purchase 20,000 ASIC miners from Canaan. Canaan has also issued an option to supply another 180,000 miners.
📊 President of Belarus, Alexander Lukashenko, recommended that employees of the state-owned enterprise, Belaruskali, use cheap electricity to mine cryptocurrencies.
NFT and gaming
📊 Visa plans to continue adding additional NFTs to its collection after purchasing a $150,000 non-fungible token (NFT) of a CryptoPunk.
📊 Cryptocurrency hedge fund, Three Arrows Capital, has launched a new fund named Starry Night Capital to buy valuable collectible tokens (NFTs).
📊 CryptoPunks creators have partnered with United Talent Agency (UTA), whose clients include Johnny Depp, Wes Anderson and Susan Sarandon. The agreement ensures that creators of various types of media, including film, television and computer games, can use images from projects developed by the CryptoPunks team.
📊 Video game giant, EA Sports, posted an ad on LinkedIn for a new Senior Director to explore Blockchain & NFTs.
📊 Nasdaq-listed Shanghai-based crypto mining firm, The9, announced the launch of the NFT platform, NFTSTAR.
That's all for this week! Follow EXMO on YouTube, Twitter and Telegram to stay tuned to the main events and trends in the crypto market.

Trade