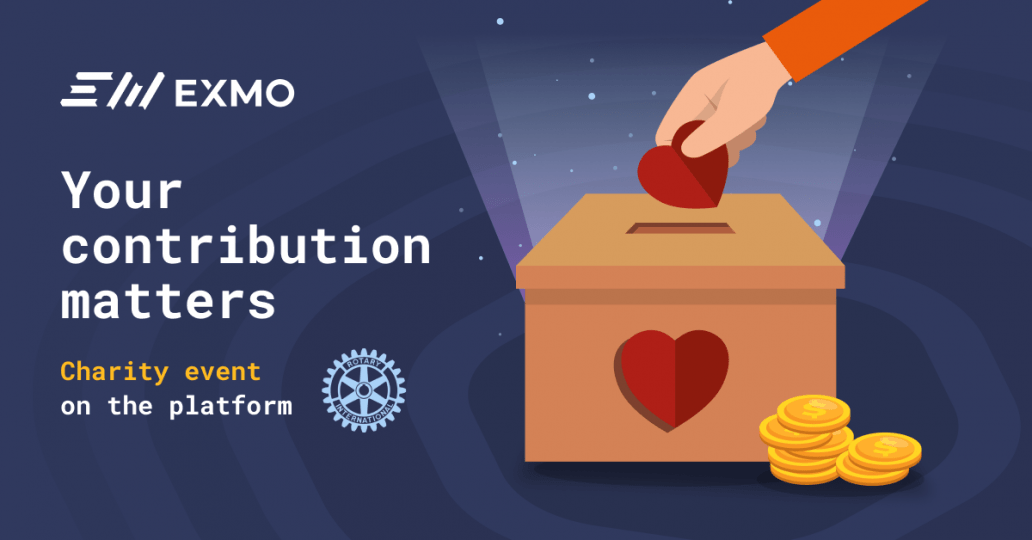 2020 has become a real challenge for everyone. The COVID-19 pandemic caused not only enormous economic damage but also took hundreds of thousands of lives. Among the most defenseless categories of people were children from orphanages who are deprived of necessities. If for the majority of us a protective mask and antiseptic are daily means of protection, for orphans it is an inaccessible luxury.
Today, June 1st is Children's Day, and we are delighted to announce a joint charity project between EXMO and Rotary International. This initiative is aimed at helping children from orphanages. The funds will be used to purchase disinfectants, protective equipment for children, as well as buying the necessary equipment to teach children how to provide first aid.
Charity As The Social Norm Of The 21st Century
"The COVID-19 pandemic has shown how important social awareness and mutual aid are today. A joint initiative with the international charity foundation Rotary International is one of those steps designed to unite us and help those who desperately need support."  – Sergey Zhdanov, CEO of EXMO.
The EXMO-Rotary International charity campaign aims to educate children on how to behave in an emergency, provide first aid and also donate the necessary protective equipment. We will help 83 orphanages in the Commonwealth of Independent States   (CIS)  to raise $228,810 for the required equipment and training for children.
Even a small contribution becomes a powerful tool if people unite for one common cause.
Save A Life Today
To take part in helping children from the orphanages, transfer your chosen amount to one of the wallets for the fundraiser:
BTC – 17s1SyNXP3vCRPuMa9tfMZTTBw67A3rYPr
ETH – 0xc3c897eb0a0933a4f44c0ca405dd1f856a12ef4a
USDT (ERC-20) –  0xc3c897eb0a0933a4f44c0ca405dd1f856a12ef4a
For your convenience, we also attach the wallets' QR codes:
About Rotary International
Rotary International is an international non-governmental organization uniting Rotary clubs around the world. It is a network of non-religious and non-political charitable organizations for all countries, regardless of national and racial affiliation, religion and political views. The organization has existed for 115 years and has more than 1,200,000 members worldwide.
The main focus of Rotary International is the fight against the high mortality rate of children from diseases and accidents. By teaching children first aid, the organization saves hundreds of lives.
"Those who serve the best receive the most" is one of the mottoes of Rotary International, which the EXMO team fully supports.
We are convinced that by working together, we can significantly help orphanages in the fight against COVID-19. Please help us and join the initiative, your donation can save someone's life.
When the fundraising has been completed, we will provide a full report on the total amount of raised funds and their distribution.
Thank you for your contribution, you can be assured that it is going to a worthy cause.