NEAR Protocol and Solana are two cryptocurrencies that don't lack similarities. Solana started in 2017 and was named after a small beach town called Solana Beach, where the company's founder, Anatoly Yakovenko, lived for three years. NEAR Protocol was founded a bit later, in 2018, by former Google engineer, Ilya Polosukhin, and Microsoft developer, Alexander Skidanov.
Both Solana and NEAR Protocol networks went live back in 2020 and won the hearts of institutions almost instantly, attracting hundreds of millions of investments. And for a good reason. Both are designed to be "Ethereum killers" and allow users to create dApps just as easily as applications are developed on Web2. But how do these two differ and which one is a better choice? Let's compare and contrast!
Which network is faster and cheaper?
Both NEAR Protocol and Solana aim to solve the main drawbacks of Ethereum – low scalability and extremely high transaction fees. Solana holds the record of the fastest blockchain, being able to process as many as 65,000 TPS.
NEAR Protocol is slower than Solana, capable of processing up to 10,000 TPS. So, Solana wins the first point in this battle. Yet, it is still a lot faster than Ethereum, which can handle only 15 TPS at the time. Plus, NEAR Protocol is still evolving. When fully upgraded, it is expected to process around 100,000 TPS.
Both projects stand out for extremely low transaction fees – thousands of times lower than those on Ethereum. So as we see, both projects solve Ethereum issues quite successfully.
Which project exceeds in technology?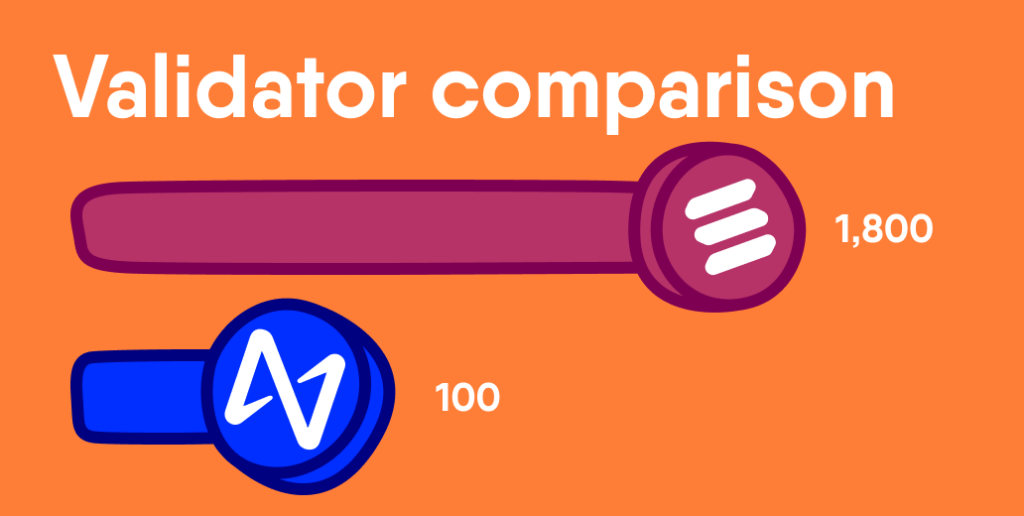 While both, Solana and NEAR Protocol, rely on the Proof of Stake consensus algorithm to verify transactions, they use different mechanisms to ensure great scalability and increase network bandwidth.
Solana relies on the Proof of History mechanism that makes timestamping transactions possible. The mechanism has an internal clock that shows the same time on all nodes, which helps solve the problem of node synchronisation and allows for fast transaction speed.
NEAR uses a sharding approach. In November 2021, it released the Simple Nightshade solution, which split the blockchain into four data segments, or in other words, shards. This greatly helped to increase the network's capacity and efficiency.
When it comes to the number of validators, Solana has the edge with 1,800 validators against only 100 validators connected to NEAR Protocol. So, NEAR is more centralised. However, transactions on Solana are usually processed by a much smaller group of 150 validators, so both projects have a lot to do to increase decentralisation.
Which token comes out on top?
Robust tokenomics is also where Solana stands out from the crowd. The platform has a native token SOL, which is used for staking and paying transaction fees. SOL has an initial total supply of 500 million tokens but doesn't have a fixed maximum supply since the network automatically issues a certain amount of new tokens each year, based on the inflation rate.
NEAR Protocol has a native token called NEAR. It is also used for staking, paying transaction and data storage fees, as well as to vote for proposals. NEAR has a maximum supply of 1 billion, but 5% of the total supply is issued additionally each year to pay for validator rewards.
Solana has great inflation and staking regards mechanisms and is perfect for long-term investments. What makes SOL special is that SOL investors can sell quite a lot of their tokens without crashing SOL's price. On the other hand, NEAR Protocol boasts a top-notch transaction fee mechanism and can also see considerable growth during a bull run.
Which blockchain is more secure and easy to use?
NEAR Protocol definitely wins on the security side. For the last few years, Solana has experienced a series of technical failures that have been widely covered and discussed on social media. In February 2022, the blockchain went down for a full 48 hours, which led to SOL's price decreases. If Solana fails to solve its outage issues, this will definitely take a toll on the coin's price. NEAR Protocol has also faced some challenges but they are much smaller than those of its counterpart.
NEAR also sports a user-friendly interface and is perfect for beginners. The project's creators claim that any developer can launch their first application on the NEAR Protocol blockchain in just five minutes. However, both platforms allow users to build decentralised applications relatively easily.
Which project has a stronger community and partnerships?
Both projects have a strong community and millions of active users. There are now more than 20 million NEAR Protocol accounts and as many as 37 million active Solana users. And these numbers are likely to grow. What's more, both projects boast a wide range of partnerships with other major blockchain projects and technical giants.
Recently both projects have partnered with Google, which will further help improve user experience. The Google Cloud team will develop a block-producing Solana validator, making it much easier for users to enter the Solana chain. Google also plans to accept SOL payments for its cloud services.
As for NEAR Protocol, it partnered with Google Cloud to support its developers as they build decentralised applications and WEB3 projects. Now, projects building on NEAR will benefit from Google Cloud's developer-friendly infrastructure.
How to buy SOL and NEAR
You can buy SOL and NEAR with fiat money or other cryptocurrencies on various crypto exchanges. On the EXMO.com platform, NEAR is traded in pairs with BTC, USD and USDT:
SOL is traded on EXMO.com in pairs with BTC and USDT:
Bottom line
To sum up, Solana is super fast and cheap, as well as boasts a strong tokenomics model. NEAR Protocol is a bit slower, but also cheap, secure and easy to use. Plus, it is still in the process of development, so more great things are to come. As you can see, both coins have their pros and cons. Both have great features and mechanisms and what's most important is that both are still growing and show a lot of promise. So the choice of the winner among both of these is all yours!
Trade