The EXMO mobile app allows you to buy and sell crypto in just a few taps, wherever you are.
Discover its 15 non-obvious, but handy features for a better trading experience.
Haven't downloaded the EXMO app yet? Now is the time!
Hide your balance from peeking eyes
Share your trading performance and send screenshots to your friends without revealing your balance. Tap the eye icon on the main screen to hide the amount of funds in your wallet, while leaving your ROI visible.
Take profits with a swipe
Minimise risks and take profits on executed trades by opening counter-orders in just a few taps. No need to remember the exact amount of the original order!
Simply go to the "Trades" section, swipe left on an executed trade, and tap "Buy" or "Sell". You will see a pre-filled form for your counter-order. Confirm it and the trade will be executed instantly at the current market price.
Create an order with one tap
Save time by placing an order without duplicating the price. Just tap on the desired line in the order book to open the order form. All data, including the price and volume of the transaction, will be filled in automatically. Edit these if required and select "Buy" or "Sell". You can create both limit and market orders in a simple way.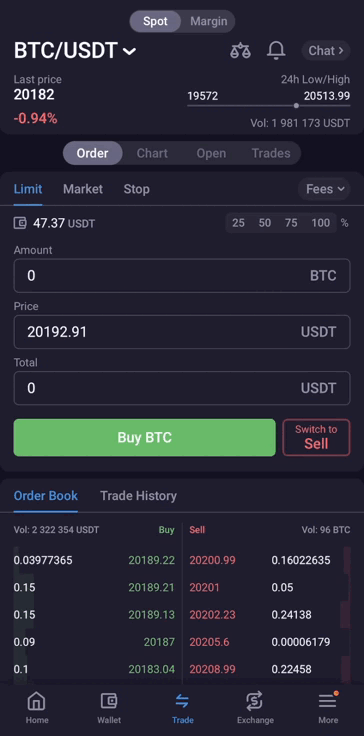 Find out the best time for selling
Not using unrealised PnL yet? Better start doing so as it's a vital trading feature. It compares the current and the original purchase price of every crypto in your portfolio and shows how much you can gain or lose if you sell it right away. The average purchase price is calculated automatically.
Screen capture your unrealised PnL or trading chart pages to share them with your friends via messengers while hiding your balance. To do this, tap the "Share" icon to take a screenshot and choose one of the available sharing options.
Do not miss a chance to earn profits
Tired of checking price charts constantly? You no longer need to do that! Turn on price alerts and you will receive a push notification when crypto falls or rises to the level you desire. To do this, tap the alarm icon next to the selected currency pair and add an alert, specifying the desired price. Now you don't oversleep when there is an opportunity to benefit from crypto!
Compare prices across all trading pairs
Want to quickly check which pairs you can trade each crypto in? Try the "Compare Markets" feature by tapping the scale icon located in the upper right corner of the EXMO app.
Here, you can also check the rates for all available pairs in dollar equivalent and choose the best price to buy crypto.
Find the most profitable coins
Wonder how much you've earned over the last seven days or during an entire trading period on EXMO? And also which crypto brings you the most revenue? Find your answers in the "Account Analytics" section. Go to the "More" tab and tap "Portfolio's PnL". Then, select the crypto that you are interested in and the desired time period.
Track your balance in the desired currency
Easily switch between all available fiat currencies to display your balance. For this, go to the "Settings" section on the "More" tab and choose from the following options: USD, GBP, EUR, PLN, UAH, etc.
Trade the way you like
Joining the dark or the light side? You can choose both! Easily switch between the night and light app modes via the "Settings" section on the "More" tab for convenient trading.
Change the way the market price dynamic is displayed from a list to tiles and vice versa in one tap. Simply go to the "Market view" tab in the "Settings" section and select "Tile" to see vivid crypto charts on your main screen.
Keep in touch with like-minded people
Get valuable insights and share your trading experiences with other EXMO traders. To do so, use the EXMO chat located on the "Trading" tab of the mobile app.
Share your trading successes with friends
Trade on EXMO, collect achievements and share them with others. Go to the "Achievements" section on the "More" tab to check how cool you already are! Once you've upgraded your collection, don't forget to tell your friends about your progress. To do this, tap on a particular achievement and pick one of the available sharing options.
Control your account's security
Trade with peace of mind, knowing that your funds belong only to you by tracking devices with access to your account. Tap the activity history icon in the upper right corner to see a list of all authorisations.
Get key updates on your phone screen
Stay aware of the latest balance changes, crypto price dynamics and other important updates without logging into the EXMO app. Set up widgets and view all useful information right on the home screen of your phone.
Clean up your messages
Want to easily get rid of unread messages? No problem! Sort all messages by tapping and holding on a message until a checkbox appears next to it. Checkmark selected messages and then delete or mark them as 'read'. That's all!
Ask for help via chat
Forget about lengthy application forms and hours of waiting. Simply contact the EXMO support team directly via the app chat. Go to the "Contact us" section on the "More" tab and write a message describing your problem. Our support team will respond to you as quickly as possible since they are available 24/7.
Have you already tried all of EXMO app's features? If not, it's time to do so!
Trade